18 octobre 2011
2
18
/

10
/

octobre
/

2011
22:53
Last friday I was in Paris in Fanny, Mike and Paul's house for a sushi dinner...
What a nice night around two chablis and an old rhum from Guyana.
We began the night with a Chablis 1er Cru Montée de Tonerre 2009 from Billaud-Simon Domain.
I did not know this wine... never tasted...
The wine is pale yellow.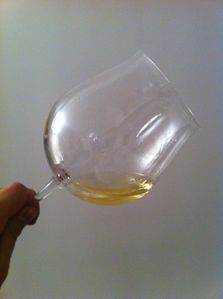 The nose seems young... Mike says it reveals a good "fat". For me it is more on citrus.
After few minutes I can smell white flowers, mushrooms and yellow fruits.
I like it but not my favourite Chablis 1er Cru.
The palate is sweet, I find again white flowers flavours but also grapefruit... it seems very young... and it is!!
This wine needs time, but that was a nice experience to try it.

After, with the sushis, we tasted a Chablis Grand Cru "Les Preuses" 2007 from Vincent Dauvissat... It is another world...
What a great wine... Very interesting...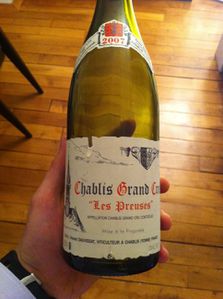 I really love wines from Dauvissat. He gives another dimension to Chablis.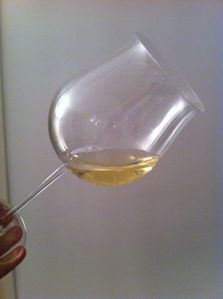 The colour is golden yellow, very bright.
I know that is very early to open this kind of bottle but we wanted to try a great Grand Cru from Chablis.
The nose is very fresh, with salty notes. I find also white flowers, honey and toasted bread flavours... It smells very good, but maybe it will be even better in 3-5 years.
The palate is straight, very thin, with again, honey, white flowers and this salty note! And the finish is very long... I really like it!!!
I think I will wait to open my 2007, but what a nice try! And that was ok with the sushis (not easy...)
Thanks Mike!
After the dinner, an old Rhum (12 years old) arrives on the table... from Guyana... I really don't know this one.
The colour is bright, brown with golden reflects.
It reveals flavours of exotic fruits, spices, tobacco, leather and orange zest.
It is very sweet and easy to drink, we don't feel the 40% of alcohol... For me it is more like a wine...
I really like this one!
What a nice evening in Paris with friends!!